Wholesale Designer Handbag Directory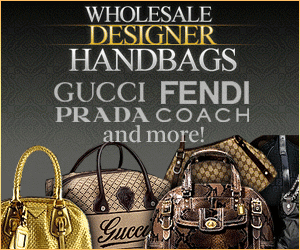 It's no secret that the market for authentic designer handbags is profitable; designer handbags are one of the most sought-after items by women and they sell like hotcakes. However, if you're like me, you know that finding legitimate wholesale suppliers of authentic designer handbags can feel impossible.
Genuine Certified Wholesale Suppliers of Authentic Designer Merchandise—Handbags, Clothing, Shoes, Jewelry, Watches, Accessories & more—from Designers Prada, Burberry, Gucci, Coach, & More at 50-80% Off Retail
A Legitimate Designer Handbag Wholesaler sells AUTHENTIC designer handbags. Pretty obvious, right, but what does this mean? It means that if you mail the merchandise to the designer to have it authenticated (they ONLY true way to know), they will determine that it's authentic. It also means that the designer, themselves, will honor any repairs, warranty issues, etc. that may arise with the merchandise because it's a genuine product.

A Legitimate Designer Handbag Wholesaler wholesales handbags at 

50-80% off retail

, so you 

can

 make a profit! Generally speaking, you can expect the merchandise to be at least 50% off retail.
A Legitimate Designer Handbag Wholesaler will 

not

 require that you pay additional fees, beside the cost of the merchandise and shipping, to purchase wholesale. They will also offer a money-back guarantee on the authenticity of their merchandise.
A Legitimate Designer Handbag Wholesaler will usually require you to purchase a minimum quantity, generally 5-10 items. This is wholesale, after all. Having said that, there are suppliers that do not have minimums, but it's the exception.
A Legitimate Designer Handbag Wholesaler will have limited quantities of merchandise, styles that change from season-to-season, and probably sell past-season merchandise. Designer merchandise has a very high demand and limited quantities are intentionally produced to increase the perceived value of the merchandise, which makes the wholesale market small. It's always a red flag when you see a supplier that has the same styles season-after-season and seemingly endless quantities of merchandise, especially designer handbags.Also, more often than not, authentic designer merchandise is going to be past-season (similar to the type of merchandise you'd find in a designer outlet store). Don't despair, however, this stuff sells like hotcakes—just look at big name sites like BlueFly.com that sell this merchandise all day long. Anything 'designer' is in demand. That being said, there are legitimate wholesale suppliers that sell current season designer merchandise (the stuff that's being sold in the boutiques right now) but they are not the norm.
A Legitimate Designer Handbag Wholesaler will be straightforward with their company's complete contact information: name, address (which should NOT be a PO BOX or a UPS address), telephone number (you should always be able to speak with someone before placing an order), e-mail, etc. Their place of business should not be a secret or hidden in any way. It's a huge red flag if you have to do any digging to find out who they are, where they are located, how to get into contact with them, etc. Seem obvious, but I can't tell you how many people have done business with suppliers where this has been the case.
If a company claims to be a legitimate wholesaler of designer merchandise and cannot meet the above guidelines, it is usually in your best interest to look the other way.